Is the pain in your back pain coming from your front?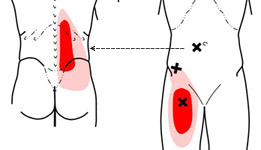 Pain is a signal from your nervous system that something is wrong, however, where you feel pain isn't necessarily where that something  is.
In General, there are 3 types of pain:
Nociceptive- e.g. Irritation to nerve endings by a  burn  or a cut
Inflammatory- e.g.   A sprain/strain injury causing tissue damage
Myofascial – structural and functional changes in the nerves, muscles and joints, which is often chronic and with no apparent cause.
The causes of nociceptive and inflammatory pain are generally obvious and these types of pain respond well to conventional and alternative therapies.
Myofascial pain tends to be more of an enigma. It has the following features:
1.            Pain is present without ongoing tissue damage
2.            There is a delayed onset after injury
3.            It is characterized by abnormal or unpleasant sensations
4.            Mild stimulation is aggravating
5.            There is loss of joint range of motion due to muscle shortening
The classic signs of myofascial pain include:
1.            Muscle shortening
2.            Tender and painful focal areas in muscles (trigger points)
3.            Changes in strength, sensation and nerve function
Muscle shortening and Trigger Points  are  the hallmarks of myofascial pain. Shortening of muscles places mechanical stress at their insertions and can cause tendinitis, bursitis, etc.
Shortening of muscles acting across a joint can upset alignment causing arthralgia (arthritis-like pain) and eventually lead to degenerative changes.
Muscle shortening across the spine can compress discs, narrow the holes where nerves exit and eventually lead to nerve irritation.
Mechanical stress caused by muscle shortening affects the ability of tissues to heal, resulting in inferior collagen and eventually weaker tendons, cartilage and bone. This can predispose these areas to further injury, pain and dysfunction.
Taking anti-inflammatory medications only compounds the problem, in that these enable one to cause further shortening of  muscles and over use by covering up the pain. They also disrupt the healing process, leading to further damage of tendons, cartilage and bone.
Should you stretch or strengthen?
A muscle with a trigger point that is short needs to have the trigger point deactivated and then the area lengthened.
A muscle with a trigger point that is long needs to have the trigger point deactivated and then the muscle strengthened (even though it may feel like it needs to be stretched).
Fortunately, there have been pioneers in the field of physical medicine who have identified patterns in muscles, i.e muscles that  tend towards being over active (short) or under active (long).
Combining this knowledge with a functional movement screen, length assessment and strength assessment can help to identify if the pain in your back pain coming from your front.
Do you have back pain?
If you have back pain, try this:
Bend forward to touch your toes
Raise your arms and bend back
Rotate to the right
Rotate to the left
Take note of which movements are restricted and/or painful.  If you can bend forward with minimal discomfort and good motion, but have difficulty bending backwards, the pain in your back may be coming from overactive hip flexors in the front. These muscles can cause back pain in several ways:
Referred pain
Turning off their opposite muscles (the glutes) by a phenomenon known as reciprocal inhibition
Compensatory muscle splinting of the back muscles to make up for deactivated glutes. A phenomenon known as synergistic dominance
Many different patterns can exist resulting in back pain.
By uncovering distorted movement patterns, over and under active muscles can be identified and the underlying cause treated. This goes for any musculo-skeletal problem.